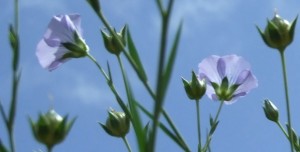 Linseed and flax terminology
Bolls are the pods which contain the ripening seeds of flax or linseed after the petals fall.
Bible reference to bolls
The seventh plague of Egypt, thunder and hail, mentions linseed.  Only some editions of the Bible correctly refer to the linseed as being in "boll". Others incorrectly make reference to it being in bud; this would be far less of a loss as the crop could recover; losing the ripening bolls would mean the whole crop would be lost.
"Exodus 9:31 (ASV) And the flax and the barley were smitten; for the barley was in the ear, and the flax was in bolls"
Meaning both crops were almost ripe and near harvest; devastation about as bad as it could be for a farmer.