Linseed: food for health and beauty
Linseed in recent times is beginning to be understood as an amazing health food for people. Doctors and researchers are constantly making new discoveries about how it helps people with health and beauty.  From healthier immune system, to combating dry eyes, better cardio health, fertility, supple joints to strong nails and shining hair scientists are beginning to understand the extent of linseed's health benefits.
Farmers knew the benefits of linseed before doctors
150 years ago farmers were in no doubt about the benefits if linseed. They were responsible for the livestock which would often number in the hundreds so it didn't take them long to notice the health benefits of feeding linseed to their animals.  No one knows why it has taken our doctors so long! By the way one of the benefits of feeding linseed is it gives animals a healthy glossy coat and strong hooves. Guess what?  When people eat linseed, among all the other health benefits, just like the farmers overserved they too get healthier, clear skin, shinier hair and stronger nails!
Linseed for healthier livestock and glossy coats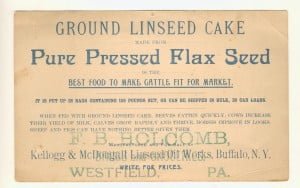 Linseed is famously good for people and has been for thousands of years, As the use of linseed took off in the Victorian era the linseed cake left over from pressing oil became a highly prized animal feed and its benefits were observed in beef, horses pigs and sheep.
They grew better and healthier,  their meat had a reputation for better flavour. Linseed cake contributed to the Aberdeen Angus's reputation for excellent beef when the lino ( a flooring made from linseed oil) factory was moved to Scotland and the byproduct linseed cake was fed to the local cattle.
Linseed "the best food"
Kellogg & McDougall Linseed, NY, USA, circa 1870: Linseed "The best food to make cattle fit for market. When fed with ground linseed cake beeves fatten quickly, cows increase their yield of milk, calves grow rapidly and thrive, horses improve in looks, sheep and pigs can have nothing better given to them"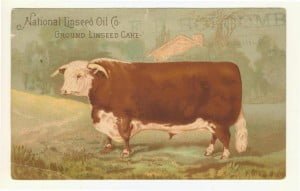 Flax Farm has a reasonable amount of organic linseed cake available. Please contact us on 01403 268844 for prices and availability.