Park Farm Cottage, Sedgwick, West Sussex. RH13 6QQ
We are probably open but always call first to check.
Monday – Friday, 8 a.m. – 4:30 p.m.
Personal and trade customers equally welcome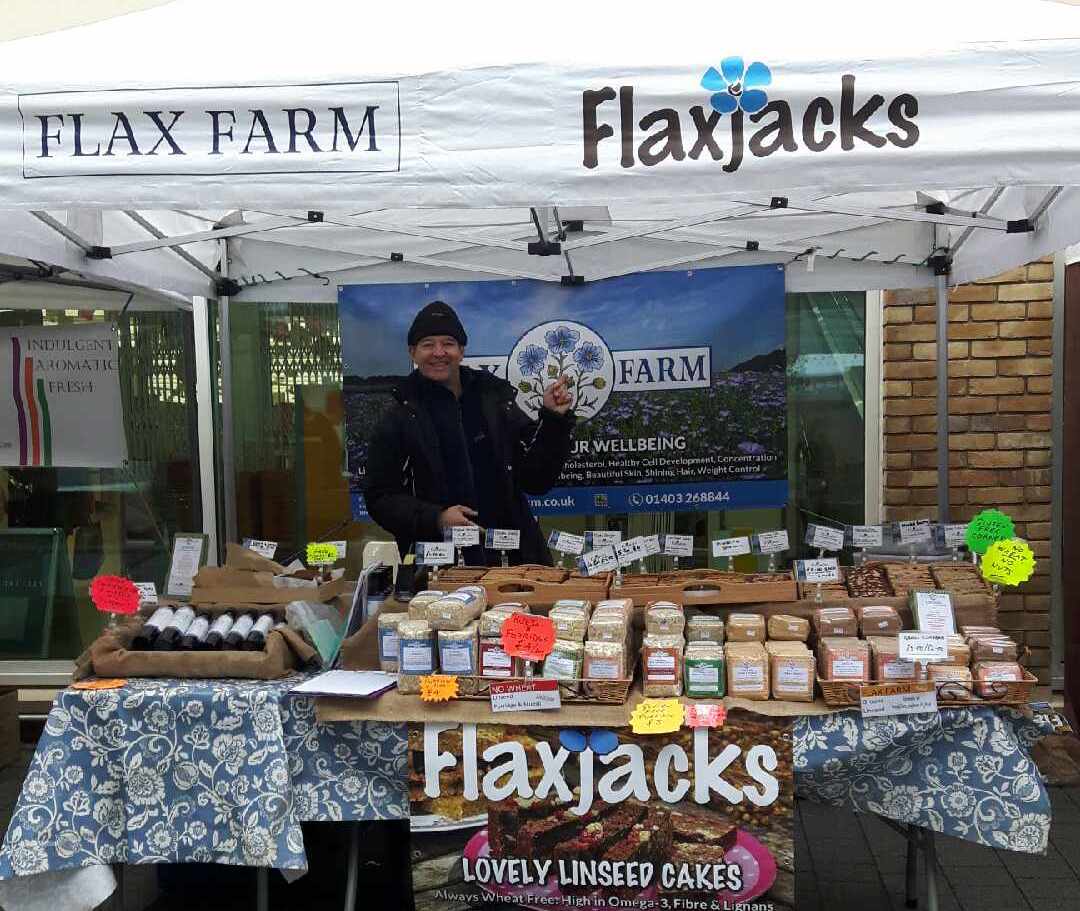 Catch us at farmers' markets:
Meet us at markets, try our products, talk to us about linseed (flax), find out about the best ways to use it and buy fresh linseed.
We love meeting our customers and are very happy to discuss with you any questions you may have about linseed (flax). Find us at markets and shows, online or by phone 01403 268844 or visit us just near Horsham where we have a small shop and bakery – but do call us before visiting,
Walton-on-Thames Farmers' Market
9:30am – 2:00pm, 1st Saturday of each Month (but not January). Held outside the Heart Shopping centre in Walton, Details
Epsom Farmers' Market
1st Sunday every Month. Epsom High Street, just under the clock tower.
Kew Farmers' Market
1st Sunday every month. Just outside the Kew Gardens underground station.
Guildford Farmers' Market  
1st Tuesday of the month. Guildford High Street.
Wallington Farmers' Market
9am -1pm every second Saturday of the month. Held at the Old Town Hall and Library Gardens in Woodcote Road, Walliington, Surrey. Details
Camberley Farmers' Market
3rd Saturday of the month. Park Street Camberley from 10 a.m. to 3 p.m.
Cobham Farmers' Market
4th Saturday of the month. In Holyhedge Road Camberley from 9.30 a.m  to 2 p.m.
Farnham Farmers' Market
4th Sunday every Month. Victoria Road carpark, in the centre of Farnham, Surrey.
Telephone: 01403 268844
Email: customerservices@flaxfarm.co.uk
By Post:
Flax Farm
Park Farm Cottage
Sedgwick
West Sussex
RH13 6QQ
If you have any enquiry about Flax Farm, our products or services then please email us and a member of our team will be in contact shortly.
Or if computers aren't your thing please call us on 01403 268844.