Like real bread but gluten-free and wheat-free
These muffins are more like bread, really tasty and work well for toasting or sandwiches. Much better than wheat-free breads you buy in shops and without any of those strange ingredients.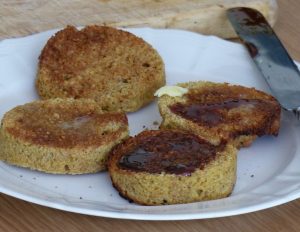 This is a gluten-free, wheat-free and dairy-free (if you use an alternative milk) high protein, high fibre, high omega-3, low GI muffin or bread that can be toasted. Saturated fat-free too and we also have a recipe for wholly vegan version.
Thanks for this recipe was given to one of our regular customers at our stall Borough Market.  Tastes in the UK and American differ; she advised us to make it slightly differently to the original: "In fact I omit the stevia & cinnamon & vanilla which is just as tasty. Its best toasted and slathered with butter or cream cheese…"
Personally I use linseed-coconut butter, Oleolux or just a little drizzle of Flax Farm cold-pressed linseed oil for making (the two things I miss most being wheat-free) a tomato sandwich or Marmite and lettuce sandwich.