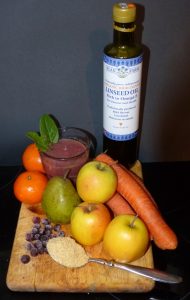 Nutrient dense
The breakfast smoothie should be made and consumed the same day. Use a food processor to make the smoothie. A food processor is used instead of a juicer so that whole goodness of the fruits and vegetables are eaten.
Fibre, vitamins, minerals and antioxidants
This breakfast with veggies and fruits of lots of colours plus linseed makes for a very nutritious, satisfying meal.  Linseed in the smoothie adds protein, tummy-friendly fibre that helps keep the digestion working just the way it should and keeping you fuller for longer.  Linseed is rich in lignans, other powerful antioxidants and mineral – including zinc and magnesium.
Omega-3
Linseed oil with the addition of ground linseed provides lots of omega-3 which makes this smoothie an excellent source of omega-3.